Becoming Jane
......You have probably all seen this already, but our library just got it so I borrowed it for the weekend.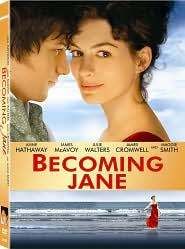 It was absolutely HANDS DOWN - one of my favorite movies EVER!!! Of course, background here, I am a BIG Jane Austen fan -
Pride and Prejudice
,
Emma
,
Persuasion
, the list goes on and on, but I thought the movie was WONDERFUL!!!! Anne Hathaway was PERFECT as Jane and James McAvoy, well, you just need to see it for yourself!!! And, even Joe was engaged the entire movie - see, I told you it was good. We laughed - the humor was very fun and yes, cried too - I was a bawling baby at the end - and that is very NOT like me!!! SO good - if you haven't seen it, you must!!!